FACEBOOK - FACEBOOK PROJECTS

ROLE
As a freelance creative, I was able to work on a number of projects—big and small—in collaboration with cross-functional teams.

MESSENGER SAFETY & PRIVACY HUB WEBSITE
The Messenger team needed a central hub for policymakers and people interested in tools available for safety and privacy in the context of the Messenger product. This was a high-profile project with multiple rounds of focus groups and close collaboration with primary stakeholders.
MESSENGER ROOMS LAUNCH ON FACEBOOK

Messenger Rooms is a way to hang out with your favorite people on video chat. Using it is as easy as sharing a link and no Facebook account is required to participate. This was one of the first fully remote productions during the COVID-19 pandemic.


MESSENGER KIDS LANDING PAGE

Messenger Kids is a product designed for kids to develop social and digital autonomy before they start using Messenger. We refreshed the landing page messaging and art direction for parents to learn more about the product and its features.
MESSENGER KIDS APP STORE
We refreshed the messaging and art direction for the Messenger Kids app after testing four different versions of copy through focus groups and parents.
MESSENGER DESKTOP APP STORE (AU, NZ, MX, PL, FR)
For a countries test we were tasked with refreshing the app store messaging and art direction for Messenger Desktop. In just 5 days after this refresh, we had 12,000 organic unique installs and app starts.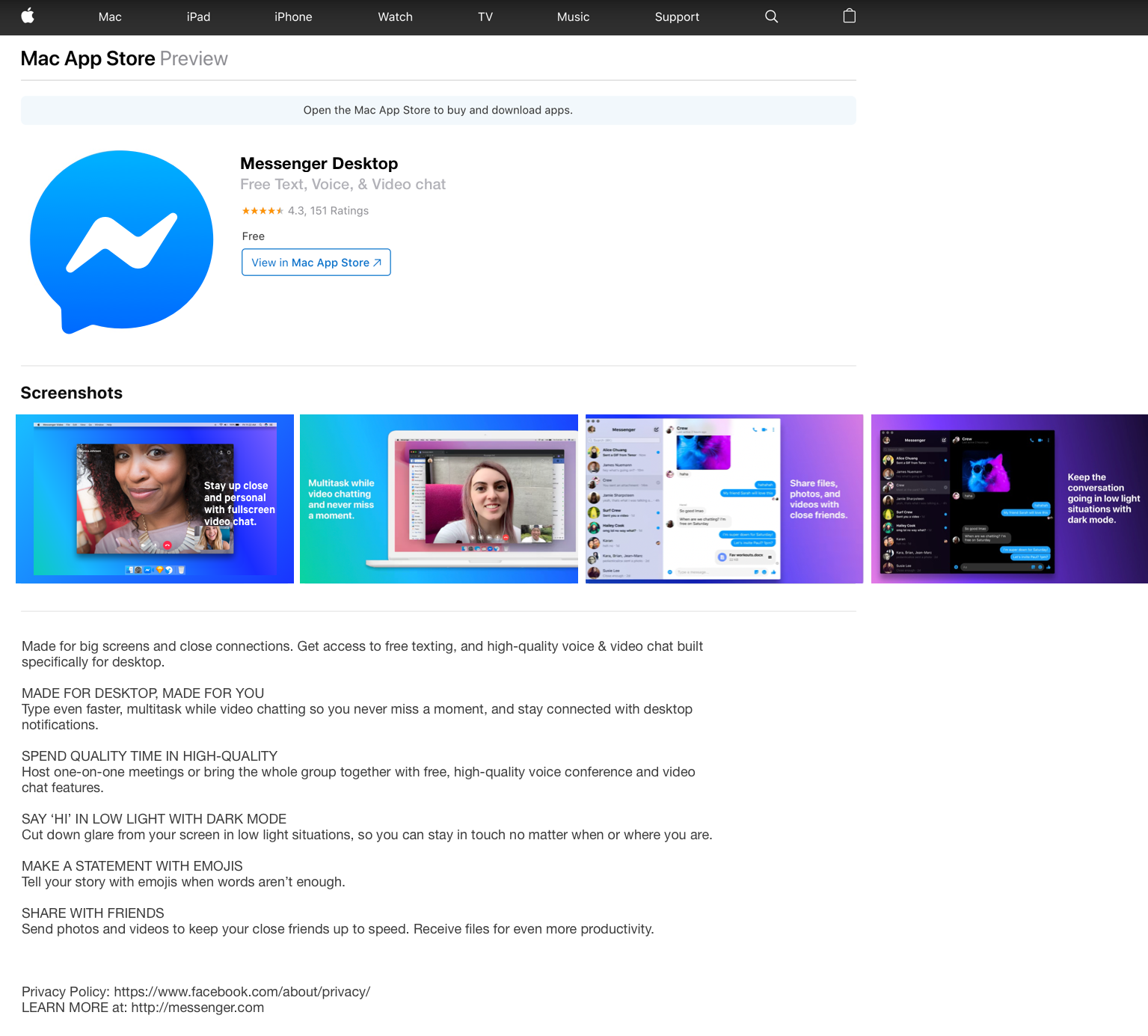 FACEBOOK AVATARS LAUNCH (QP AD SYSTEM)
We were tasked with quickly developing a system of QPs (Quick Promotions are in-product, direct notifications) to acquire, engage, and retain users. These QPs will be one of the primary drivers of global adoption of the Avatars product.